Core Curriculum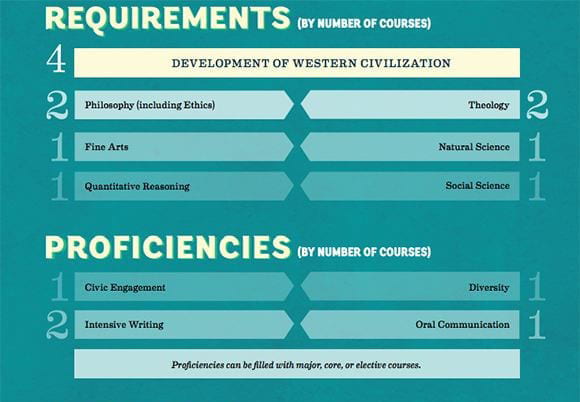 The subjects that you study as undergraduates and, just as importantly, the skills and intellectual habits you acquire in the process, shape the lives you'll lead after college.
​Your course of study in the Core Curriculum, as well as in y​our disciplinary studies, should require you to question assumptions,​ engage in self-reflection, think critically and analytically, and communicate effectively.
The Core Curriculum, as well as study in majors and concentrations, must prepare students to connect what you learn at PC to life beyond the College, and help ​you to understand and appreciate the complexities of the world and your role in it.​
​Our Core Curriculum combines the breadth appropriate to ​a liberal arts education in the​ Catholic and Dominican tradition with the flexibility needed for every student to focus on exploring one aspect of the Core in-depth.
Core Curriculum Goals
​The nine mission-related learning goals for the Core Curriculum directly link the College's Catholic and Dominican identity and intellectual tradition to specific teaching and learning goals. In an abridged version, they are:
an understanding of the essential compatibility of faith and reason;
a commitment to civic engagement and service to others;
an understanding of how philosophical and theological questions inform and guide the pursuit of truth;
a capacity for moral and ethical reasoning;
the ability to engage with issues using the pedagogical tradition of the disputed question;
an integrated understanding of the historical, cultural, religious, and scientific events, ideas, and traditions that have shaped the world;
fundamental skills in critical, logical, and quantitative reasoning expressed in verbal and written proficiencies;
an appreciation for the aesthetic dimension of the human mind and spirit; and
​an appreciation of the Core Curriculum as a way to illuminate the key questions of human existence relating to life's purpose and meaning.​