Site Home
>
Rev. Robert Randall Distinguished Professorship in Christian Culture
Rev. Robert Randall Distinguished Professorship in Christian Culture
​​​​​​​​​​​​​​​​​​​​​​​​​​​​​​The Randall Professorship is held by a recognized scholar whose work concentrates on an understanding of culture that embodies a Christian view of human achievement. The selected individual​ contributes​ to undergraduate instruction in the theology, philosophy, history, literature, or the social sciences departments, directs student research, and delivers public lectures.
​​2022-23 Randall Professor: Friar Sixto J. Castro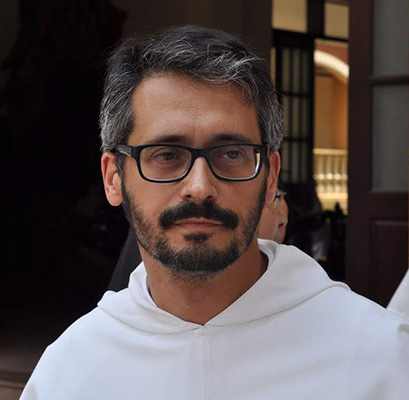 Sixto J. Castro is a Dominican friar, born in Cangas del Narcea (Asturias, Spain). He joined the Dominican Order in 1988 and studied philosophy at the Higher Institute of Philosophy in Valladolid. He continued his education at the University of Valladolid, where he obtained his Ph.D., studied theology at the Faculty of Theology of San Esteban in Salamanca, and also obtained the title of professor of organ at the conservatory of this city.
Friar Castro is currently professor of aesthetics and theory of the arts at the University of Valladolid. His academic interests focus on the theory of art, the question of beauty and the religious, and theological elements present in contemporary aesthetic theories. He has been visiting professor at Bayreuth Universität (Germany) and visiting scholar at the universities of Temple (Philadelphia), Houston, Oxford, Leuven and Columbia.
Friar Castro is the author of several books, including La trama del tiempo [The Weave of Time] (2002), En teoría, es arte [In Theory, it is Art] (2005), Vituperio de orbanejas [Orbaneja's Vituperation] (2007), Lógica de la creencia [The Logic of Belief] (2012), Sobre la risa y la belleza [On Laughter and Beauty] (2015), Filosofía del arte [Philosophy of Art] (2017), Teología estética [Aesthetic theology] (2018) and has coordinated several volumes, including The Paths of Creation (2011).
He has published numerous articles in various journals, including Estudios Filosóficos, Ciencia Tomista, Revista de Filosofía, Anuario Filosófico, Diánoia, Veritas, American Catholic Philosophical Quarterly, Angelicum, Analogía, Aísthesis, Technoetic Arts and Religions, as well as chapters in edited volumes, including The Hand. Perception, Cognition, Action (Springer, 2017) and A Companion to Arthur Danto (Wiley, 2022). He has translated Richard Swinburne, George Dickie, Lydia Goehr and G. E. Lessing into Spanish. He is currently the editor of the journal Estudios Filosóficos, published by the Higher Institute of Philosophy in Valladolid (Spain).