Common Reading
2019-20 Common Reading
Tattoos on the Heart: The Power of Boundless Compassion
Tattoos on the Heart: The Power of Boundless Compassion, the critically acclaimed and best-selling book written by Rev. Gregory Joseph Boyle, S.J., is the College's 2019-20 Common Reading selection. Published in 2010, the book is a collection of essays about Father Boyle's gang-intervention program in Los Angeles.
Father Boyle founded Homeboy Industries in 1988 as a way of improving the lives of former gang members in East Los Angeles. Each year, the organization welcomes thousands of people who are seeking to transform their lives through education, workforce development, substance abuse counseling, and mental health services. In Tattoos on the Heart, Father Boyle's essays "offer a stirring look at how full our lives could be if we could find the joy in loving others and in being loved unconditionally."
Rev. Boyle to Speak at Academic Convocation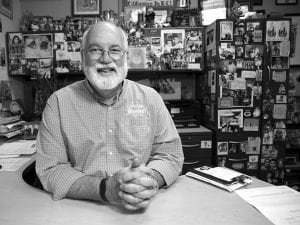 Rev. Gregory Joseph Boyle, S.J., author of Tattoos on the Heart: The Power of Boundless Compassion, will address the Providence College community at Academic Convocation on August 26, 2019. Father Boyle is the founder of Homeboy Industries in Los Angeles, CA. Now in its 30th year, Homeboy traces its roots to when Boyle, a Jesuit priest with advanced degrees in English and theology, served as pastor of Dolores Mission Church, then the poorest Catholic parish in Los Angeles, which also had the highest concentration of gang activity in the city.
Homeboy has become the largest gang-intervention, rehabilitation, and reentry program in the world, and employs and trains gang members and felons in a range of social enterprises, as well as provides critical services to thousands of men and women each year who walk through its doors seeking a better life.
Father Boyle has received the California Peace Prize, the James Beard Foundation Humanitarian of the Year Award, and the University of Notre Dame's Laetare Medal. He was inducted into the California Hall of Fame and named a 2014 Champion of Change by the White House. He is also the author of the New York Times bestseller Tattoos on the Heart: The Power of Boundless Compassion.
Tattoos on the Heart Essay Contest
All Providence College first-year and transfer students are invited to submit an original 650-775 word essay in the 2019 Common Reading Essay Contest. Essays will be judged based on creativity, clarity of purpose, engagement with major themes, and mechanics.​ The essays should be between 650 – 775  words.  Essay submissions are due no later than Thursday, Aug. 15 at 11:59 p.m.​ Please note that this contest is for new students only.
Submit your essay