Common Reading
2018-19 Common Reading
Born a Crime: Stories from a South African Childhood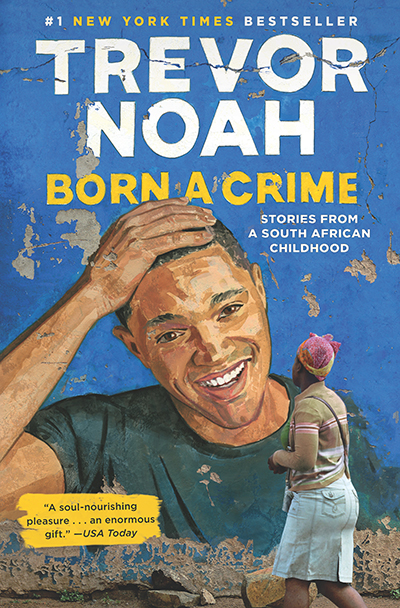 About the Book:
Trevor Noah's unlikely path from apartheid South Africa to the desk of The Daily Show began with a criminal act: his birth. Trevor was born to a white Swiss father and a black Xhosa mother at a time when such a union was punishable by five years in prison. Living proof of his parents' indiscretion, Trevor was kept mostly indoors for the earliest years of his life, bound by the extreme and often absurd measures his mother took to hide him from a government that could, at any moment, steal him away. Finally liberated by the end of South Africa's tyrannical white rule, Trevor and his mother set forth on a grand adventure, living openly and freely and embracing the opportunities won by a centuries-long struggle.
Born a Crime is the story of a mischievous young boy who grows into a restless young man as he struggles to find himself in a world where he was never supposed to exist. It is also the story of that young man's relationship with his fearless, rebellious, and fervently religious mother — his teammate, a woman determined to save her son from the cycle of poverty, violence, and abuse that would ultimately threaten her own life. The stories collected here are by turns hilarious, dramatic, and deeply affecting. Whether subsisting on caterpillars for dinner during hard times, being thrown from a moving car during an attempted kidnapping, or just trying to survive the life-and-death pitfalls of dating in high school, Trevor illuminates his curious world with an incisive wit and unflinching honesty. His stories weave together to form a moving and searingly funny portrait of a boy making his way through a damaged world in a dangerous time, armed only with a keen sense of humor and a mother's unconventional, unconditional love.
About Trevor Noah:
Trevor Noah is the most successful comedian in Africa and is the host of the Emmy and Peabody Award-winning The Daily Show on Comedy Central. Born in South Africa to a black South African mother and a white European father, Noah has hosted numerous television shows including South Africa's music, television, and film awards and two seasons of his own late night talk show, Tonight with Trevor Noah.
(Information courtesy of Penguin Random House)
2017-18 Common Reading: Spare Parts
Spare Parts: Four Undocumented Teenagers, One Ugly Robot, and the Battle for the American Dream​ has been chosen as the ​2017-18 Common Reading Program selection.
About the Book:
In 2004, four Latino teenagers arrived at the Marine Advanced Technology Education Robotics Com​petition at the University of California, Santa Barbara. They were born in Mexico but raised in Phoenix, Arizona, where they attended an underfunded public high school. No one had ever suggested to Oscar, Cristian, Luis, or Lorenzo that they might amount to much — but two inspiring science teachers had convinced these impoverished, undocumented kids from the desert who had never even seen the ocean that they should try to build an underwater robot.
And build a robot they did. Their robot wasn't pretty, especially compared to those of the competition. They were going up against some of the best collegiate engineers in the country, including a team from MIT backed by a $10,000 grant from ExxonMobil. The Phoenix teenagers had scraped together less than $1,000 and built their robot out of scavenged parts. This was never a level competition — and yet, against all odds . . . they won!
But this is just the beginning for these four, whose story — which became a key inspiration to the DREAMers movement — will go on to include first-generation college graduations, deportation, bean-picking in Mexico, and service in Afghanistan.
Joshua Davis's Spare Parts is a story about overcoming insurmountable odds and four young men who proved they were among the most patriotic and talented Americans in this country—even as the country tried to kick them out.​
​​​(Information courtesy of Macmillan)​
Spare Parts Essay Contest
You have been asked to write a commentary or opinion piece (not a book review!) on Spare Parts for the Providence College student newspaper (​The Cowl) in which you reflect on the relationship between at least two major themes from the book. Your purpose for writing is to inspire your readers to take some kind of action or to consider new ways of thinking. Please be sure to include specific details from Spare Parts to support your commentary. Essays will be judged based on creativity, clarity of purpose, engagement with major themes, and mechanics.​ The essays should be between 650 – 775  words and are due no later than Monday, August 14th at 11:59 p.m.​ Please note that this contest is for new students only.
Some possible themes include (but are not limited to):
​Bias and prejudice
Media and public recognition
Citizenship/civic responsibility
Opportunity
Creativity and innovation
Persistence
Experiential learning
Relationships/mentoring/teamwork
Inequality and disparity
Risk-taking
Legal/illegal immigration
​Self/social determinism