Common Reading
2019-20 Common Reading
Tattoos on the Heart: The Power of Boundless Compassion
Tattoos on the Heart: The Power of Boundless Compassion, the critically acclaimed and best-selling book written by Rev. Gregory Joseph Boyle, S.J., is the College's 2019-20 Common Reading selection. Published in 2010, the book is a collection of essays about Father Boyle's gang-intervention program in Los Angeles.
Father Boyle founded Homeboy Industries in 1988 as a way of improving the lives of former gang members in East Los Angeles. Each year, the organization welcomes thousands of people who are seeking to transform their lives through education, workforce development, substance abuse counseling, and mental health services. In Tattoos on the Heart, Father Boyle's essays "offer a stirring look at how full our lives could be if we could find the joy in loving others and in being loved unconditionally."
2018-19 Common Reading
Born a Crime: Stories from a South African Childhood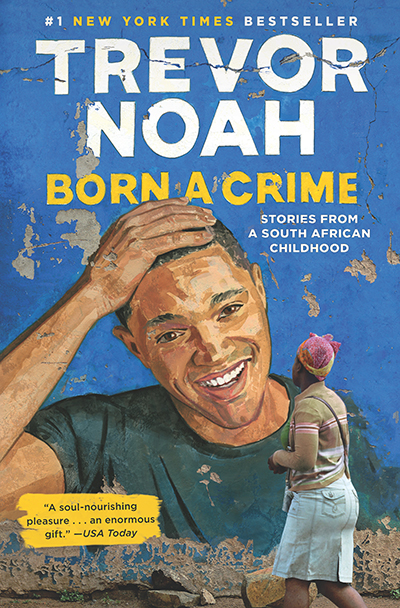 About the Book:
Trevor Noah's unlikely path from apartheid South Africa to the desk of The Daily Show began with a criminal act: his birth. Trevor was born to a white Swiss father and a black Xhosa mother at a time when such a union was punishable by five years in prison. Living proof of his parents' indiscretion, Trevor was kept mostly indoors for the earliest years of his life, bound by the extreme and often absurd measures his mother took to hide him from a government that could, at any moment, steal him away. Finally liberated by the end of South Africa's tyrannical white rule, Trevor and his mother set forth on a grand adventure, living openly and freely and embracing the opportunities won by a centuries-long struggle.
Born a Crime is the story of a mischievous young boy who grows into a restless young man as he struggles to find himself in a world where he was never supposed to exist. It is also the story of that young man's relationship with his fearless, rebellious, and fervently religious mother — his teammate, a woman determined to save her son from the cycle of poverty, violence, and abuse that would ultimately threaten her own life. The stories collected here are by turns hilarious, dramatic, and deeply affecting. Whether subsisting on caterpillars for dinner during hard times, being thrown from a moving car during an attempted kidnapping, or just trying to survive the life-and-death pitfalls of dating in high school, Trevor illuminates his curious world with an incisive wit and unflinching honesty. His stories weave together to form a moving and searingly funny portrait of a boy making his way through a damaged world in a dangerous time, armed only with a keen sense of humor and a mother's unconventional, unconditional love.
About Trevor Noah:
Trevor Noah is the most successful comedian in Africa and is the host of the Emmy and Peabody Award-winning The Daily Show on Comedy Central. Born in South Africa to a black South African mother and a white European father, Noah has hosted numerous television shows including South Africa's music, television, and film awards and two seasons of his own late night talk show, Tonight with Trevor Noah.
(Information courtesy of Penguin Random House)
Write a recommendation to one of your former high school teachers that makes a case for how to best use Born a Crime in class next year, and for what purpose. To begin formulating your argument, reflect on Trevor Noah's use of autobiography to emphasize important themes and inform his audience. Your purpose for writing is to convince your teacher of how the book could be used creatively in the classroom to enhance student learning in a particular area. Successful essays will include reflections on high school learning and an examination of at least one of the book's major themes (see examples listed below) to support your recommendation. Essays will be judged based on creativity, clarity of purpose, engagement with major themes, and mechanics.​ The essays should be between 650 – 775  words. Essay submissions are due no later than Tuesday, Aug. 7 at 11:59 p.m.​
Please note that this contest is for new students only.